Cantilever Rack Starter units come in Single and Double Sided configurations.
Cantilever Rack Adder Kits are an easy way to extend your run of structural cantilever in your warehouse, lumber yard, or anywhere a cantilever rack system is needed
Cantilever Rack Towers and Bases are the foundation of any cantilever rack system.
Cantilever rack arms hold the material and come in either straight or inclined configurations.
Cantilever Rack X-Bracing and Horizontals keeps the system sturdy and in place.
Cantilever-racks.com specializes in the resale of used cantilever rack systems.
Factory Direct Cantilever Rack
Cantilever racks are the ideal racking system used for heavy large, bulky or oddly-shaped materials that must remain off the floor. The most common products stored are sheets of wood and metal, lumber beams, steel bars and pipes. Cantilever systems also offer you the ability to maximize your warehouse space and give you easy forklift access. We have a trained sales force that can help you create the right system that will handle the capacities you need.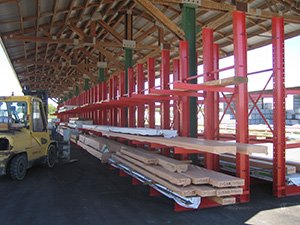 Cantilever-racks.com is owned and operated by a group of professionals that have been in the material handling industry for over 20 years. We specialize in offering great condition "Used" Cantilever Racks for less money than new! We comb the country looking for good quality used cantilever racks so that we can offer our customers a wide selection. Our Cantilever racks either look like new when we purchase them or we will refurbish them to make them look like new.
What sets us apart from our competition!
You will NEVER be unhappy with the condition of our material. Unlike others in our industry we do not represent that we own the material if we don't. Whether our cantilever racks are in one of our warehouses, or at a location where we are tearing them out, we always offer our clients the option to physically come and see the material. Beware of those that don't! We offer the largest selection of Cantilever Racks in the nation. This includes Single Sided and Double Sided Cantilever Towers of all heights, Cantilever arms of all lengths and capacities and hundreds of different Cantilever Brace sets to chose from so you can achieve just the right spacing of your cantilever rack system.
---
What we have to offer!
Hundreds of Cantilever Towers in Stock of all sizes at all times!
Thousand of Cantilever Arms in stock of all sizes at all times!
All Sizes of Cantilever Brace Sets Available at all times!
Layout and Design:
Let one of our trained professionals help you with your layout and design options. This service is FREE! Call us and explain what your storage requirements are and we will help you design just the right system to fit your specific application.
You are on the page about:
New Cantilever Racks and Used Cantilever Racking